All about vibration generators
Vibration generators may seem like simple little devices, however, they can be used to explore a variety of phenomena. If you have explored anything from the properties of waves, to the effect of temperature change on gases, you will have used a vibration generator.
What is a vibration generator?
It does what it says on the tin… it generates vibrations. It is a device to demonstrate wave function by giving mechanical oscillations when fed from an oscillator, such as a power signal generator, or a power amp and bench signal generator.
Inside the vibration generator is a diaphragm, which creates the vibrations by converting a power signal into vertical movements. When something is attached to the shaft at the top of the vibration generator, such as a piece of string, the waves can be clearly seen.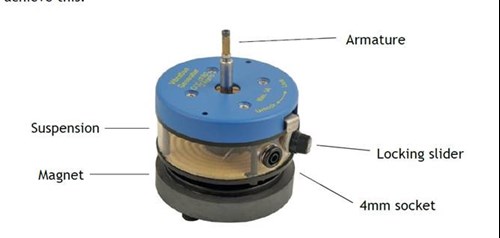 Practicals using a vibration generator
Vibration generators are commonly used in Physics, Design and Technology practicals at GCSE, A level and equivalent level, for example
Investigating the properties of a wave
Measuring the frequency, wavelength and speed of waves in a solid
Stationery waves on a string
Chladni plates, a wonderful visual representation of the resonance of sound
What do I need to set up a vibration generator?
You will need some basic additional equipment to set up your vibration generator
Then depending on the practical you are undertaking, you will require additional equipment such as the accessories kit. Our technical team are always available to help advise on the best way to set up your practical using a vibration generator.
How do a set up a vibration generator?
Setting up a vibration generator is relatively easy too, with just a few steps to follow
Connect the vibration generator to the power signal generator using two 4mm leads

One lead is inserted into the yellow low impedance socket (on the left)
The other lead is inserted into the black socket immediately to its right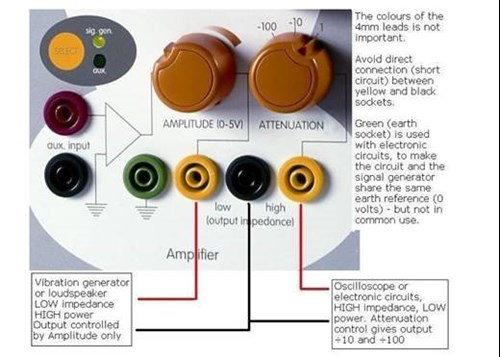 Set the signal generator to sine wave output at about 3-5Hz and turn up the amplitude
You should see that the vibrating shaft rises and falls at the set frequency
Troubleshooting
If you see nothing, check that the fuse holder is tightened properly and also check that the fuse is conducting.
The replacement fuse is a 1A quick blow 20mm glass fuse, which can be bought within packs.
How to I use a vibration generator?
The frequency, amplitude and waveform can be chosen and altered as desired depending upon the vibration you wish to generate.
The vibration generator performs best over the frequency range of 3Hz – 10kHz, which can be adjusted as desired by altering the frequency range dial on the Power Signal Generator.
About the Philip Harris vibration generator
The Philip Harris vibration generator was developed especially for the education market's needs. It has a frequency response which encompasses the whole of the audio spectrum and beyond, allowing a wide range of wavelengths to be observed. To prevent overheating or damage during prolonged use, it has high temperature coil system. Our vibration generator can be used in any position, free standing or clamped.
Get advice about vibration generators
If you have any questions regarding the about the using and setting up a vibration generator, please contact our Technical Support Team via techsupport@philipharris.co.uk