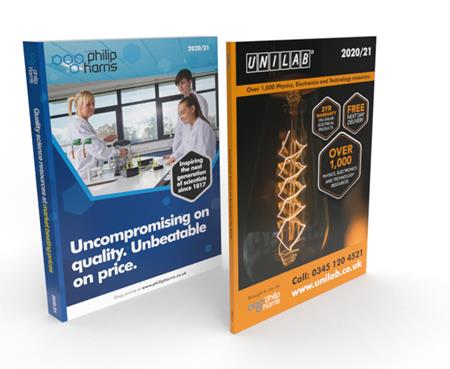 Philip Harris Catalogue Request
The Philip Harris and Unilab catalogues are valid until April 2022.
They are packed full of all the resources you need to inspire the next generation of scientists, with over 25,000 products. Simply choose which catalogue you need below and we'll post a copy to your door free of charge (UK only). Don't forget, you can view and purchase all Philip Harris products 24 hours a day, right here on our website.
Why can I only order a maximum of 5 catalogues?
In order to ensure the most efficient delivery we can only allow 5 books to be ordered online, however if you contact our customer service team directly they can organise for additional books to be sent, please email enquiries@philipharris.co.uk
When does your new catalogue come out?
The latest Philip Harris and Unilab catalogues were delivered to schools in September 2020 and are valid until April 2022. You can always see our best prices and newest products online.  
Where can I download a version of your catalogue to import into my FMS?
You can download copies of our latest catalogue for any of the following FMS:
Capita SIMS
RM Education
Informatics Computing
Civica
PS Financials
Simply click to download the file for your FMS system via our FMS Files download page.
Can I order a catalogue if I am an international customer?