Gene Packs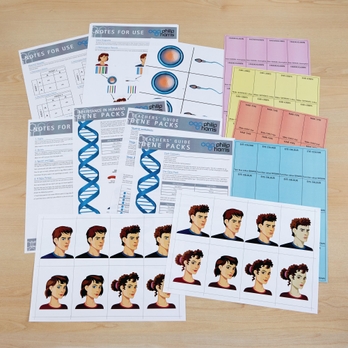 Gene Packs
B8R06974
Direct Delivery – up to 2 weeks
Product Description
An ideal way to introduce students to the basic concepts of genetics. This set explores the relationship between genotype and phenotype in a colourful, fun way, where students learn how the alleles in their "gene pack" affect they way the characters look.
Four characteristics have been included: Hair type, eye colour, earlobe type and haemoglobin type (normal or sickle cell.) Topics covered include dominant and recessive alleles, co-dominance, gametes, and zygosity.
Comprises:
• Character cards
• Gene cards (for each characteristic)
• Gamete sheet
• Teacher's Notes including example crosses, and student worksheet master copy.
Includes materials sufficient for up to 32 gene packs.