Blood Pressure Upper Arm (Large Cuff)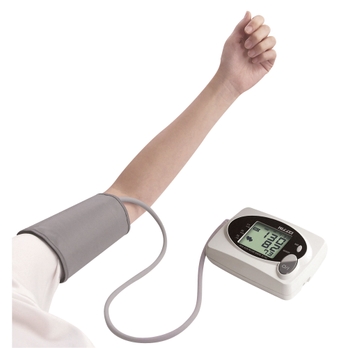 Blood Pressure Upper Arm (Large Cuff)
B8R06030
Product Description
The Nissei DS-1902 Auto-Inflate Blood Pressure Monitor has eliminated irritation from cuff inflation by measuring at the time of inflation. Unlike regular blood pressure measurement that reads oscillation during inflation after cuff is inflated to a certain amount, the reading starts during inflation and it stops as the systolic blood pressure is taken, which is the end measurement, and the air in the cuff is rapidly exhausted immediately. The cuff inflation is so gradual and gentle that the measurement is done almost before you realise the inflation.
To achieve measurement in even less time, the DS-1902 features a 'Personal Mode'. With this 'Personal Mode', the inflation is carried out just to the appropriate amount, at the ideal rate, which is determined from the past three measurements.
The Nissei DS-1902 Auto-Inflate Blood Pressure Monitor features 'Irregular Pulse Rhythm Indication' to ensure correct measurement and to suggest the possibility of arrythmias, and the wide cuff range enables it to be applied to arm circumference of 23 - 43cm without the need for a large cuff size.