'Polygram' Pre-Coated T.L.C. Plates - 40x80mm Pack of 50
Pack of fifty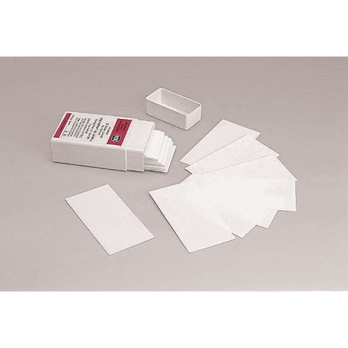 'Polygram' Pre-Coated T.L.C. Plates - 40x80mm Pack of 50
Pack of fifty
B8A58051
Direct Delivery – up to 7 days Delays Possible Due To COVID-19
'Polygram' Pre-Coated T.L.C. Plates - 40 x 80mm
Coated with silica gel, average pore diameter 6mm, layer thickness, 0.25mm. With fluorescent indicator. A general purpose plate which can be used for most separations.
Easily cut with scissors forming smaller plates which may be used to facilitate the further development of a given spot. The plates can also be rolled to fit into chromatography cylinders. When suitably coated with a fixative they may be punched for insertion into a ring binder.
The carrier sheet is polyester, 0.2mm thick and is resistant to all organic solvents commonly used in T.L.C.
Supplied in packs of 50.