Hoffmann's Voltameter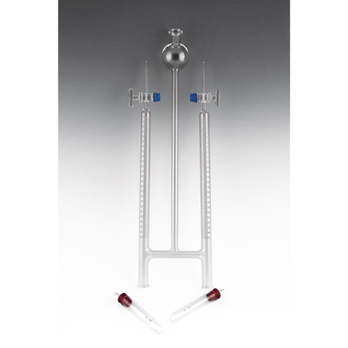 Hoffmann's Voltameter
B8A37096
Direct Delivery – up to 7 days
Product Description
This is used for demonstrating the chemical composition of water by volume and the electrochemical equivalent of hydrogen by electrolysis of water. Platinum electrodes mounted in rubber stoppers are used for the electrolysis of acidified water but carbon electrodes must be used for ammonia solutions or hydrochloric acid (or any other chloride-containing solution). Stopcock and reservoir at apex of outer tubes and inner tube respectively.
Sizes:
Outer limbs graduated 50cm x 2cm.
Overall height: 720mm
Width: 87mm
Reservoir capacity: 200cm.
Complete with one pair of platinum electrodes.
Supplied WITHOUT clamps or stand.