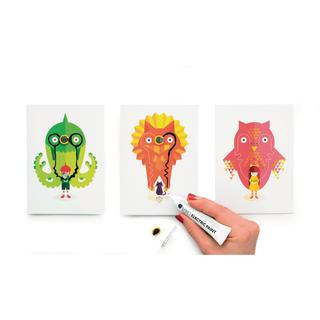 Flashing Card Set - Power Animals
Code: XS832594
Unit: Each
Product Description
Make your greeting cards light up! The perfect entry point to electric paint. Everyone loves greeting cards, but these are a cards as you've never seen them before. We've worked hard to create a set of products which engage a range of users and the flashing card sets present the lowest barrier to entry. Using an electric paint pen, a card, a battery and an LED you can create a functioning circuit that brings the images to life. The Celebration Circuit, Conductive Encouters and Power Animals sets contain all the materials you need to make three flashing greeting cards using electric paint This fun activity is great for makers of all ages. Our easy step-by-step instructions show you how to draw simple circuits with electric paint and attach a flashing LED and battery to your cards. Impress your friends, bring your cards to life and get creative with electronics!
Each set contains: 3 x card designs, 1 x electric paint pen 10ml, 3 x LEDs/light emitting diodes and 3 x coin cell batteries.
Children under 12 years of age must be supervised by an adult whilst using this product.