Infinity 90 Telescope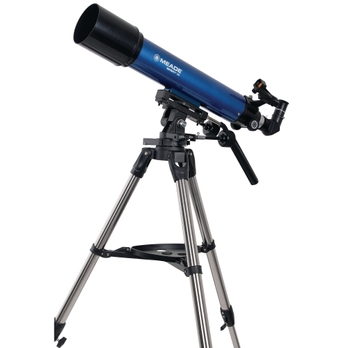 Infinity 90 Telescope
B8R06070
The Infinity 90 Telescope with 90mm (3.5") Refracting Telescope delivers bright and detailed images that are perfect for viewing both land and celestial objects.
Features a precision Altazimuth mount with slow motion controls that makes it easy to track celestial objects as they move across the night sky.
Includes 3 eyepieces that provide low, medium and high powered magnification for viewing a wide range of objects (Moon, planets, or land).
Bonus Autostar® Suite Astronomy planetarium DVD with over 10,000 celestial objects (Windows® PC only).
• Optical Tube Design: 90mm (3.5") aperture refracting telescope
• Focal Length: 600mm (f/6.7)
• Mount Type: Altazimuth with slow-motion controls on both axes
• Optical Coatings: Fully coated glass
• Focuser: Rack and Pinion
• Diagonal: 90 degree erect image
• Eyepieces: Three (3) 1.25" MA (26mm, 9mm & 6.3mm)
• Barlow Lens: 2X
• Viewfinder: Red Dot
• Tripod: Pre-assembled full-height stainless-steel tube legs
• Accessory Tray: Quick locking design
• Assembled Dimensions: 870 x 870 x 1350mm
• Assembled Product Weights: 5.34kg