Benchtop Extraction Unit And Shield
New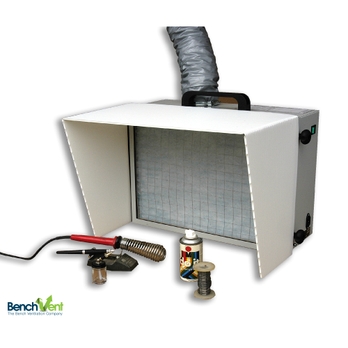 Benchtop Extraction Unit And Shield
B8R07207
Direct Delivery – up to 7 days
The BenchVent BV300S-D is an A3 Extraction Unit for aerosols, airbrushes and more. It's also well suited to extracting solder fumes, general solvent vapours and gases to atmosphere. It's design also means it can be used for dust extraction (from grinding etc.) as well as general particulates and powders. Because the BV300S-D is an extraction unit it comes complete with the Flexi-Duct to atmosphere extraction fittings. The Flexi-duct can be fixed to a standard domestic vent or simply placed through a partially open window to facilitate portability or convenience.
What's included with the BV300S-D?
· Filter unit with fan and 2mtrs flexi-duct
· Spray Shield
· 1 x Particulate filter
· Power Lead
· Data/Warranty Booklet
Full data sheet availble on request.
Key Features
· Replaceable plastic spray/fume shield
· Carry handle
· Can be assembled in seconds
This unit can be used in two positions: Horizontal position (For Spray Mount, aerosol lacquers and fixatives etc. applied to artwork placed onto the filter. Accommodates artwork up to A3 size.) and Vertical position (For model sprays and airbrush use, light grinding particles (not sparking), solder fume extraction, general solvent and gas extraction)