Hood Mounted Benchtop Extraction Cabinet
New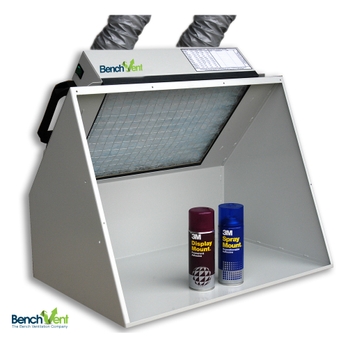 Hood Mounted Benchtop Extraction Cabinet
B8R07209
Direct Delivery – up to 7 days
The BenchVent BV100H-D is ideal for applications that include filtration of aerosol adhesives (glue booth for spray mounts), aerosol lacquers and fixatives and airbrush sprays applied to artwork up to A1 size. A1 drawing boards can be placed into the hoods at an angle for efficient overspray capture. The workstation hood also accommodates prototypes, models, ceramic parts, PCB's etc, placed onto the hood base to be sprayed, soldered, cleaned, glued, moulded, sanded etc.
What's included with the BV100H-D?
BV100H-D Filter unit with fan(s)
Hood Enclosure
1 x Particulate filter
Power Lead
Data/Warranty Booklet
Full product Datasheet available on request.
These cabinets are designed for studio / classroom / workshop cleanliness and for immediate operator protection whereby 'large' particulates (> 5 microns) are filtered out and 'fine' particulates (<5 microns) together with odours, gases, vapours and fumes within the hood enclosure are exhausted to atmosphere via the flexi-duct(s).
Key Features
For artwork applications, standard A1 drawing boards can be placed within the hood enclosure. The boards fit at an angle for efficient overspray capture.
3D items, models, printed circuit boards etc. may be placed onto the hood base for spraying, cleaning, sanding, gluing etc. The Flexi-ducts can be fixed to a standard domestic vent(s) or simply placed through a partially open window to facilitate portability or convenience.
With the aid of a &quotY&quot piece the 2 ducts can be placed through one hole in the wall.