Hooded Spray Booth
New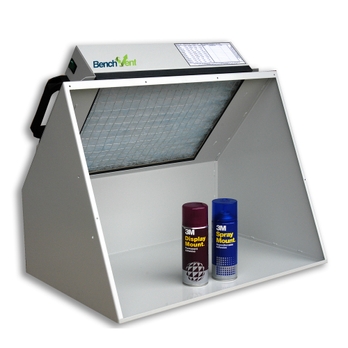 Hooded Spray Booth
B8R07205
Direct Delivery – up to 7 days
The BV200H is a hooded spraybooth designed to capture, contain and filter potentially harmful substances within science, art and DT areas. It can take up anyting up to an A2 size material.
What's included with the BV200H Unit?
· Filter unit with fan(s)
· Hood Enclosure
· Particulate filter
· Charcoal Impregnated fibre filter
· Power Lead
· Data/Warranty Booklet
Key Features:
· The workstation hood also accommodates prototypes, models, ceramic parts, PCBs etc, placed onto the hood base to be sprayed, soldered, cleaned, glued, moulded, sanded etc.
· Sealed electrical wiring and switch, downstream of filters
· Brushless motor with external rotor
Data sheet is available on request.
The BV200H is not recommended for continual usage, i.e. production applications, particularly in confined and/or badly ventilated areas. For this, you will need a ducted unit like the BV200H-D, BV930H-D, or BV660H-D