Genlab Dual Purpose Oven/Incubator - 18L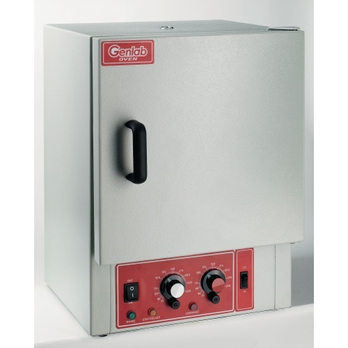 Genlab Dual Purpose Oven/Incubator - 18L
B8A64476
Direct Delivery – up to 4 weeks
This cost effective, dual purpose oven/incubator is ideal for drying, sterilising and incubating samples in the laboratory. The control system combines the advantage of two temperature ranges in one unit through the use of a simple high/low switch. Higher temperatures for oven or steriliser use on the high setting and standard incubator settings on the low range.
All units are natural convection models, one is available with fan circulation and all units are heated by Incology sheathed elements.
They also have a direct easy read thermostat and an independent overheat thermostat as a safety measure, both with calibrated scales and tamper proof dial locks.
Capacity: 18 Litres
Temp. Range: Ambient +5 to 100˚C
Fluctuation: +0.75˚C
Sterliser Temp. Range: 40 to 250˚C
External Dimensions: H260 x W260 x D270mm
Dimensions: H520 x W380 x D410mm
Shelf Positions: 2
Mass: 14kg