DA7C Pump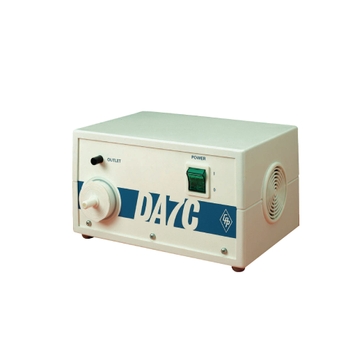 DA7C Pump
B8A78955
A quiet running diaphragm pump for pressure or vacuum work. Suitable for use with aquaria, aeration equipment or for providing a stream of gas for chemical reactions. The casing is totally enclosed and fully insulated to class II, ensuring maximum electrical safety (complies with BS5724). The inlet is provided with a removable filter. Supplied with mains lead. Tubing not included.
• Diaphragm plates: stainless steel.
• Diaphragm: EPDM.
• Outlet pipe: 8mm OD Nylon.
• Inlet pipe: 8mm OD polypropylene.
• Valves and 'O' rings: Nitrile rubber.
• Max. free flow: 14 litres per min.
• Max. pressure at zero flow: 1.2 x 105 Pa.
• Motor type: shaded pole.
• Ultimate vacuum: 4.1 x 104 Pa.
• Power supply: 240V 50Hz 28W.
• Dimensions: 120 x 205 x 140mm.
• Mass: 2.75kg.