Elgastat B114 Water Deioniser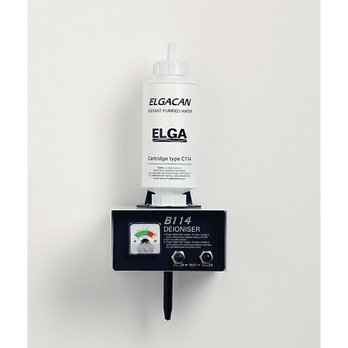 Elgastat B114 Water Deioniser
B8A90748
Product Description
Using disposable 'Elgacans' the 'Elgastat' is a wall mounted dispenser incorporating a purity meter. Can be connected to any cold water tap and purified water can be drawn until ion exchange resins are shown to be exhausted.
• Max. input pressure: 0.63 Bar (10 psi)
• Max. flow rate: 30 litres/hour
• Water purity: 1-10Mohm/cm 1.0 - 0.1μS/cm
• Resin volume: 0.57 litres
• Mass: 2.2kg
• Dimensions: 380 x 180 x 152mm, height x width x depth
Supplied complete with four 'Elgacans', but WITHOUT battery. Requires 1 x 9V battery availble on code B8R05410.