Philip Harris Spill Pack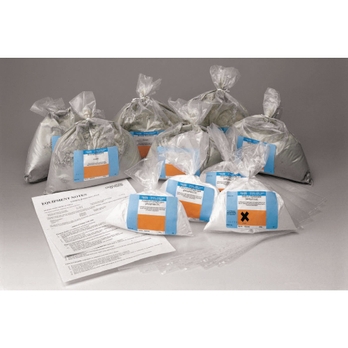 Philip Harris Spill Pack
B8A80196
Product Description
The Spill Pack is made up of six containers each with enough absorbent material to absorb a spillage of up to 500cm³, the maximum volume recommended for storage in a laboratory. In addition to the absorbent material, two packets of soda ash are provided so that acid spills, once absorbed and collected, can be neutralised and made safe for disposal. Ten stout polythene bags are also provided so that after treatment any spillage can be collected and contained prior to disposal by appropriate means. Full instructions are also provided.
The National Counter Terrorism Security Office seeks to restrict the supply of certain chemicals. Philip Harris have a duty to control the supply for these chemicals and any private individual attempting to purchase these chemicals may have their details passed to the police in their area.
If you require waste disposal within the UK, please contact All Waste Matters Ltd on info@allwastematters.co.uk for a quote.