Red Rubber Stoppers One Hole 40m - Pack of 10
Pack of ten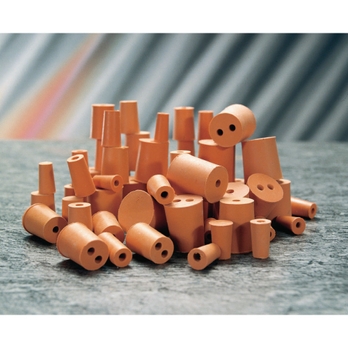 Red Rubber Stoppers One Hole 40m - Pack of 10
Pack of ten
B8R07053
Product Description
Best quality Red Rubber. Shore hardness in range 46-55. Bottom diameter moulded on top face.
Holes 5mm diameter. Resistant To Dilute Acid, Alkalies And Ammonia.
• Bottom diameter: 40mm
• Top diameter: 49.5mm
• Length: 40.5mm
• Pack of 10
Please note: Extreme care must be used when inserting glass into the holes in rubber stoppers. The procedure should only be carried out by trained personnel. If in doubt consult your safety advisor.
Size 40 stoppers are ideal to use with Pyrex Heavy Wall Filter Flasks 1000mL.