Antex XS-25 Tool Kit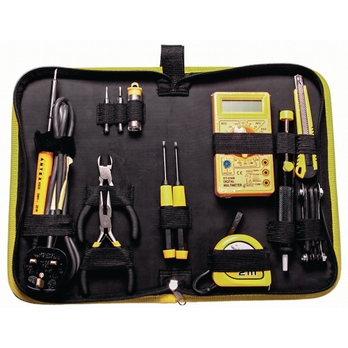 Antex XS-25 Tool Kit
B8R06091
Product Description
Tool kit featuring an Antex XS25 burn-proof silicone cabled iron, a variety of tools, and a digital multimeter. The tip fitted to the iron is a long life, iron plated Antex 50 bit (2.3mm). Iron power is 25 watts. CE approved.
Includes:
• Mini cutters
• Mini pliers
• Screwdriver - flat blade
• Screwdriver - cross
• Tape measure 2m x 16mm
• Auto-lock blade
• Hex Allen Key set 1.5mm-6mm
• Desoldering pump
• 2 meter tube of lead-free solder
• Flat pack metal soldering iron stand
• XS25 230V iron with silicone cable
• Spare soldering bit 50 2.3mm
• Spare soldering bit 55 0.5mm
• Digital multimeter with battery
Size: 285 x 180 x 50mm
Weight: 900g.