PAT Testing Kit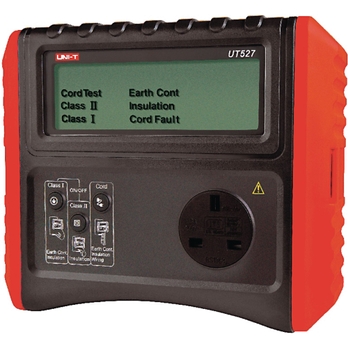 PAT Testing Kit
B8R06101
Product Description
Designed for ease of use, the PAT Testing Kit is a perfect option for those with a small amount of appliances to test.
While other PAT testers can be quite complex, the UT527 makes testing easy. Simply connect up your appliance using the included leads, press the test button you need and the tester will either display PASS/FAIL to tell you if the appliance is safe or not.
This tester is suitable for testing both class I and class II appliances as well as power sockets, extension leads and IT equipment. It carries out all PAT procedures required by the IET Code of Practice including insulation resistance, earth continuity and more. Includes: PAT Tester, test lead, alligator clip and batteries.
Features:
• Manual PAT tester - doesn't display full testing results (PASS/FAIL indication only)
• Test class I, class II and cables
• Battery powered
• Lightweight
• One touch testing
• Simple to understand and follow
• Hard transit case
• Performs Earth Continuity, Insulation Resistance and Live / Neutral Checks for o/c, s/c and crossed testing