PAT Testing Training DVD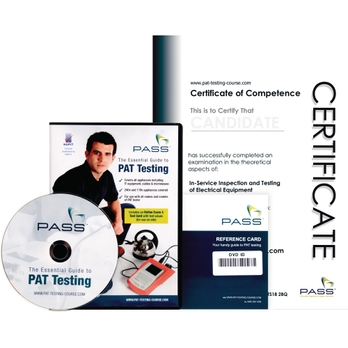 PAT Testing Training DVD
B8R06526
Product Description
Perfect for both individuals and schools performing their own PAT testing, the fully accredited PAT testing training DVD is the cheapest and easiest way to gain the necessary qualification you need to perform PAT testing.
Based upon the existing PAT testing course structure, the training DVD includes all of the information you'll need to gain an understanding of how PAT testing works.
All training DVDs are supplied as standard with access for one person to our online examination portal as well as a PAT testing record card with useful reminders.
After watching the DVD, you will need to take our online examination.
The exam is multiple-choice and can be taken as many times as you need until you receive a pass mark. Instructions for how to access your online exam are supplied as standard with every DVD.
Once you have successfully completed the online exam, you'll be provided with an electronic copy of a Certificate of Competency in PAT Testing.
This is all you need to certify you as being able to carry out PAT testing - there are no additional courses to take! We recommend printing out your certificate and keeping it in your records in case you need to prove your testing competency.
The sections covered during the course are the Test Card, Appliance Classes, Visual Inspections, Earth Bond Testing, Insulation Testing, Leakage/Touch Current Testing, Cables and Extension Leads, Testing in Different Premises Types, Industrial Equipment, Commercial Kitchens, Hair Salon Testing, Garage Testing and Office Testing.