Silicone Lab Mat - Yellow
New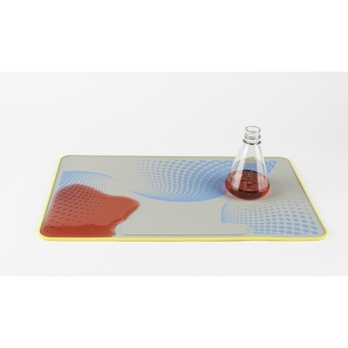 Silicone Lab Mat - Yellow
B8R07123
Product Description
The reversible Lab Mat is an economical solution to help keep benchtops clean and safe from stains, spills and wear. Made from a durable FDA approved silicone material that creates a stain resistant washable working surface and easily rolls up for compact storage.
Easily cleaned using any standard disinfectant by simply wiping it, or putting it in a dishwasher and it's ready for repeated use.
The Lab Mat offers a large working surface that is anti-skid which when dealing with harsh chemicals and delicate glassware helps keep items in place and prohibits the lab
mat from sliding out from underneath. The mat's surface is also noise dampening, reducing sound from the vibration of common benchtop equipment.
Includes internal metal inserts to keep stir bars from wandering around the working surface and a lip design around the outer edge of the mat helps contain spillage that may occur when in use keeping benchtops safe and clean.
Operating Temperature: -50°C to 200°C (-58°F to 392°F). Size 350 x 600mm.