Science Cart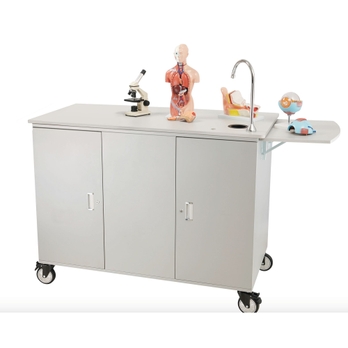 Science Cart
B8R06926
Direct Delivery – up to 2 weeks
Product Description
This mobile system will transform any room into a science lab. The cart is fitted with sets of trays for laboratory experiment equipment and easily movable from room to room.
The EduCart is a flat packed, cost-effective mobile teaching complex and convenient storage system, which provides an integrated approach to teaching natural sciences with the use of modern technology.
The EduCart frame is made out of sturdy, acid resistant steel with doors that are fire and scratch resistant. One of the side has a heavy duty handle for easy manoeuvring and, with the help of our high quality wheels, the cart can be easily pushed over uneven ground.
The autonomous water system consists of an acid resistant polypropylene sink with a stainless steel faucet. The water flow can be easily controlled with a button that is connected to the built-in electric pump.
Size of the cart assembled: L1509 x W690 x H1073mm.