Colorimeter Bundle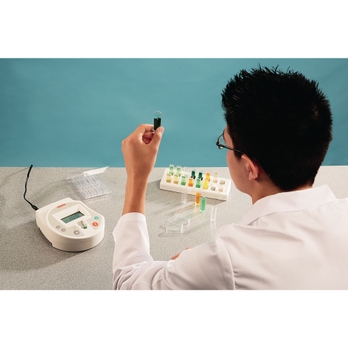 Colorimeter Bundle
B8R00016
Product Description
This bundle contains:
• Colorimeter
• Plastic cuvettes (pack of 100)
• Cuvette rack holding 20 cuvettes
Colorimetry is an extremely useful technique for establishing the presence and concentration of substances that produce coloured solutions. This kit comprises all that you need to make a start in this interesting practical area of conventional and biological chemistry. The colorimeter is specifically designed to be used in schools by 'higher' level students and those studying AS and A2 Chemistry and can be used for many practical experiments including those on the AQA science course.
Its large, clear digital display and simple push button controls make the instrument very easy to use and ideal for students.
The eight filters at 440, 470, 490, 520, 550, 580, 590 and 680nm are encased in an integral filter wheel and the wavelength required is selected by rotating this until the relevant, colour coded, number is visible in the indicator window. The ergonomic design makes this very convenient and filters cannot be accidentally lost or damaged.
Results can be read off the instrument display or the instrument can be connected to a PC where results can be loaded into a spreadsheet. When used in kinetics mode to study rates of reaction the unit takes readings every second and these may be sent to a chart recorder via the analogue output or downloaded to a PC using the RS232 connector.
The kit also includes a pack of 100 cuvettes and two cuvette racks (may vary from image shown).