WPA S1200 Spectrawave Spectrophotometer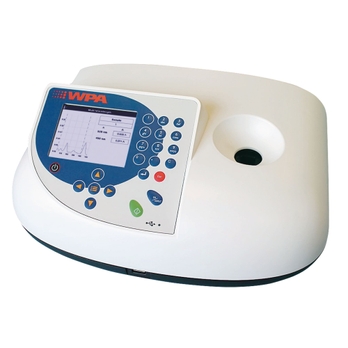 WPA S1200 Spectrawave Spectrophotometer
B8L62443
Direct Delivery – up to 4 weeks
Product Description
Wavelength scanning and pre stored methods are just some of the great benefits of the WPA S1200+, which gives outstanding functionality from an instrument with a small footprint. This is an easy to use, low maintenance visible spectrophotometer. Which includes stored methods for Bradford, BCA, Biuret, and Lowry protein quantitation, in addition to absorbance, transmittance, OD600, and concentration modes.
Great features such as the automatic calibration at start-up gives you the confidence you need in your measurements. With no lid or moving parts, this robust instrument is easy to use, clean and store.
Conveniently save your data to a USB memory stick or transfer immediately to your PC using the PVC (Print Via Computer) software, supplied as standard and export your data to ExcelTM and other formats.
Increase your measurement flexibility with the optional test tube cell holder which allows you to measure 10 to 18 mm test tubes.
The standard cell holder accepts 10 mm glass and disposable cuvettes and is easily removed for cleaning. An optional thermostatted cell holder is also available giving you the added capability of measurements at 37°C.
• Visible spectrophotometer covers 325-1100 nm allows you to see more of your sample
• Save data on a USB and results can be analyzed later
• More onboard applications such as Bradford, BCA, Biuret and Lowry assays
• PVC (Print Via Computer) software is included and allows you to transfer data directly from the instrument
• Pulsed tungsten halogen
• Wave length range: 325 - 1100nm
• Photometric linearity: + 0.01A
• Photometric Reproducibility: 0.002A at 0A and 500 nm
• Dimensions: W325 x H133 x D225 mm
The WPA S1200+ comes with a one year warranty.