Stuart® Digital Melting Point Apparatus SMP10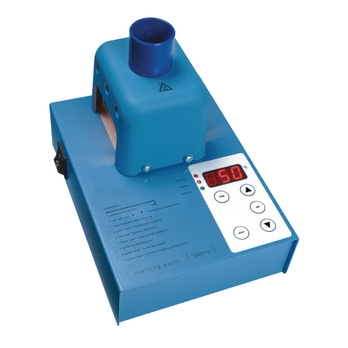 Stuart® Digital Melting Point Apparatus SMP10
B8C14899
Direct Delivery – up to 4 weeks
Product Description
The SMP10 has been designed with safety and ease of operation in mind making it ideal for use in education. The temperature is selected, measured and displayed digitally eliminating the need for a thermometer. Easy to follow instructions are printed on the front panel. Viewing is via an illuminated magnifying lens, two samples can be observed simultaneously. The viewing cover is easily removed to allow access to the bulb and for cleaning. The heating block is behind a protective screen and is designed to heat quickly and remains at the selected plateau temperature until the user is ready to start the test. A large LED display makes reading the temperature easy and three LEDs show the user the state of the sample. For unknown readings the unit can be set for rapid heating (20°C per minute) to a set level and then to a slower rate of heating (2°C per minute) nearer the melting point. This unit has extendable feet, allowing the user to view samples at an optimum angle. When not in use the feet fold away to make the unit easier to store. Each unit is supplied with an individual calibration certificate showing actual temperature accuracy.
• Number of samples: 2
• Temperature range: Ambient to 300°C
• Temperature resolution: 1°C.
• Temperature accuracy: ±1% of display temperature
• Display: Three digit LED
• Sensor: PT100.
• Ramp rates: 20°C per minute to plateau. 2°C per minute to melt
• Overall Size: W160 x D220 x H170mm
• Mass: 1.8kg