Hanna HALO™ Electrode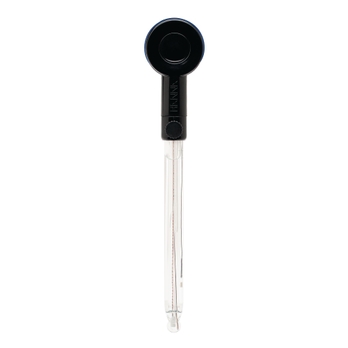 Hanna HALO™ Electrode
B8R06265
Product Description
HALO™ is the World's first professional pH probe with Bluetooth® (4.0) smart technology.
With a 10m range, HALO™ can be used outside or in the Lab, in sealed fume cupboards and can be monitored from a distance.
Can be used with free HANNA Lab app. from the Apple Store®* or with HANNA Edge Blu meter.
HANNA Lab app allows the user to calibrate and to have full GLP data, a continuous pH log and fluid graphing facility using the iPad pinch and zoom technology. Connects quickly by selecting the relevant probe from a drop down list.
Features;
• pH range/accuracy -2.000 to 16.000/ +/-0.005pH
• mV range +/-800mV
• Temperature range -20.0 to 120.0°C
• Calibrate with upto 5 points with seven standard buffers
• Auto temperature compensation
• Quick simple connection to iPad/Edge Blu
• Glass pH electrode for general purpose use
• GLP data
• Logging
• Fluid dynamic Graphing and Alarm feature (with HANNA Lab app)
Works with Bluetooth® 4.0, suitable for iPad3 upwards and iPad Mini (iOS 7.1 or later).