Hanna Piccolo 2 pH Meter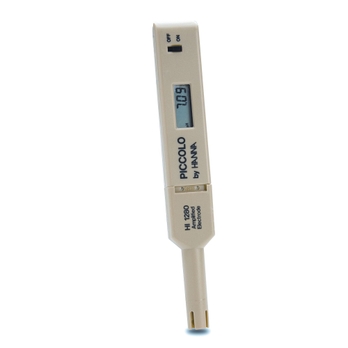 Hanna Piccolo 2 pH Meter
B8A77422
A pocket pH meter with the accuracy of a bench meter. The Piccolo is simple to use and has a dual point calibration. The replaceable electrode has a built-in amplifier. Supplied complete with batteries, a small screwdriver for calibration and carrying case.
• Range: 1 to 13 pH.
• Resolution: 0.01 pH.
• Accuracy: ±0.01 pH.
• Temperature compensation: Automatic from 0 to 70°C.
• Operating temperature: 0 to 50°C.
• Power requirements: three 1.5V button cells (type 675H or A76).
• Length: 160mm