Amprobe IR-450 Mini IR-Thermometer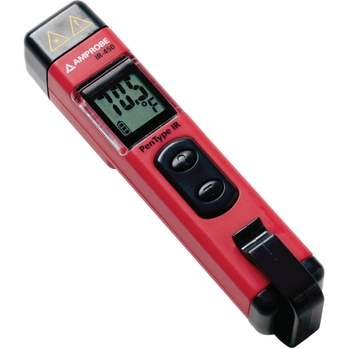 Amprobe IR-450 Mini IR-Thermometer
B8R06656
The IR-450 Thermometer is an ideal quick-response non-contact infrared thermometer, making it easy to check surface temperatures.
3-in-1 instrument; it includes an infrared thermometer, laser pointer and a built-in LED torch to help you see what you're doing in darkened conditions. With the bright laser pointer, you can exactly line up the measurement spot where you want it.
The infrared thermometer has distance-to-spot ratio of 8:1, with temperature measurement range of -30 to 500°C. Accuracy varies depending on the measurement range, but is generally with ±1 to 2°C.
Pocket-sized design making it easier to store than traditional gun-style digital thermometers. It even comes with a pocket-clip for easy access whenever and wherever you need it.
Size: L100 x W20 x H29mm.