Digital Clinical Thermometer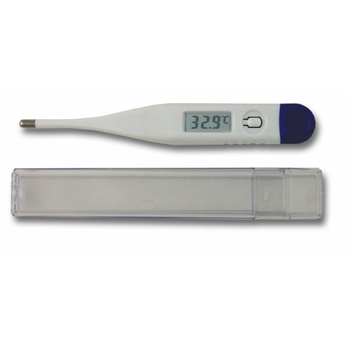 Digital Clinical Thermometer
B8A86654
Product Description
Features small physical size and low mass, and the LCD digital display provides a rapid, unambiguous readout. An audible tone indicates completion of the measuring period and automatic switch-off takes place after ten minutes to conserve battery life.
• Measurement range: 32.0 to 43.0°C
• Accuracy: ± 0.1°C
• Sensor: Thermistor
• Readout: three digit LCD with indication of out-of-range high or low temperature and low battery
• Sampling rate: two per second
• Power source: Silver oxide cell type SR41W or equivalent giving 200 hours life (three years of normal use approx)
• Power switch: Manual on/off button
• Automatic switch-off: ten minutes after last indication
• Dimensions: L130 x W18 x H9mm overall
• Probe tip diameter: 3mm
• Mass: 7g
Supplied fitted with silver oxide cell SR41W.