Fastime 1 Stopwatch - Black - Pack of 6
Pack of six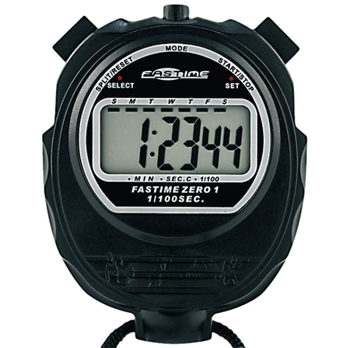 Fastime 1 Stopwatch - Black - Pack of 6
Pack of six
B8R06358
Product Description
The Fastime 01 Stopwatch is good for non critical event timing and sports games such as football and events where cumulative split times are required. Its small size makes it ideal for children to use• 24 hour stopwatch with time/calendar display and alarm.
• Takes cumulative split times with time out and 1-2 fast finish
• Shock resistant
• Battery included
• Pack of 6 assorted colours
• Batteries are dangerous if swallowed. Keep out of the reach of Children.
When changing a battery in a Fastime watch ensure that where there is a spring it is in the correct position (under the battery), where there is a clip to hold the battery, ensure that the battery is in place under the clip making good contact with the elements. If the watch face still remains blank it may be that the watch needs re-setting, this can be done by creating a 'U'-shaped tool from a paperclip and simultaneously touching one end to the back of the battery and the other end to the contact in the reset hole to the left of the battery bar screw.