Dino-Lite RK-10A Microscope Stand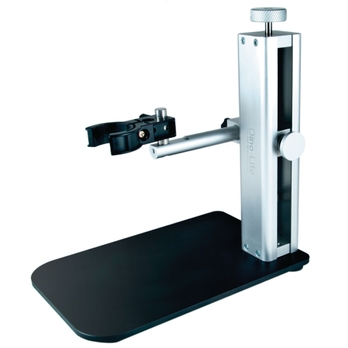 Dino-Lite RK-10A Microscope Stand
B8R05721
Product Description
The Dino-Lite RK-10A is a sturdy and stable high-end stand solution that can be used with all the professional Dino-Lite models. It is constructed of resilient stainless steel and lightweight aluminum and offers a very precise fine-focus adjustment as well as a quick release function.
The quick release button allows for fast and convenient vertical movement and the fine-focus adjustment knob is especially useful at high magnification. This model also includes an adjustable safety stop to prevent the microscope from touching the specimen. Its adjustable horizontal arm has a 15cm range with 360-degree rotation and the additional arm (included) increases its effective range to observe larger objects.
Size: W15 x L22 x H23cm. Compatible with all Dino-Lite models.