Optika SZM-D Digital Stereo Microscope 45x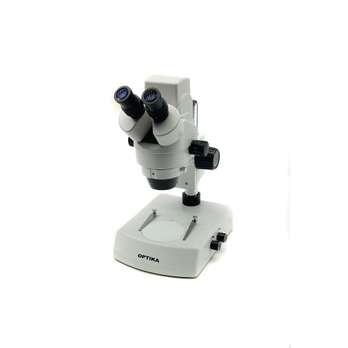 Optika SZM-D Digital Stereo Microscope 45x
B8R05561
Product Description
A fully functioning stereomicroscope with additional digital imaging capabilities. A brilliant, robust instrument that is suitable for experienced users who want to document their investigations.
Microscope Specification:
• Total magnification: Up to 45x
• Eyepieces: WF10x/20mm
• Head: Binocular, 360° rotating, 45° inclined front side eyepiece tube. Diopter adjustment on both eyepieces Interpupillary adjustment 51-75mm
• Nosepiece: Turret type
• Objectives: Par-focal achromatic 1x objective, with zoom range 0.7x and 4.5x. Zoom factor 6,428:1. Working distance 100mm
• Stage: Black/white disc for contrast, and semi-transparent plastic for transmitted light
• Focussing: Rack and pinion mechanism controlled by a pair of knobs
• Illumination: Double intensity adjustable incident and transmitted illumination by halogen bulbs (12V/15W). The angle of the incident illuminator is adjustable
• Optical system: Achromatic
• Voltage: External power supply 110/220V, 50/60Hz, 1A. Max. power 38W
• Dimensions: H410 x W280 x D215mm
• Weight: 12kg
• Accessories included: Power supply, OPTIKA Vision Lite software disc, 1.8m USB cable, dust cover and instructions
Digital Camera Specification:
• Resolution: 1280 x 1024 pixels (1.3Mpx), 5:4 aspect ratio
• Pixel Size: 5.2μm x 5.2μm
• Sensor: 1/3&quot CMOS
• Output: USB 2.0 port
• Imaging Area: 6.67mm x 5.33mm
• Framerate: 15fps (1280 x 1024), 55fps (640 x 480), 142fps (320 x 240)
• S/N Ratio: 44 dB.
• Dynamic Range: 71dB
• Exposure Time: 15s - 1/1500s
• Sensitivity: 1.0V/lux-sec (550nm)
• C-Mount Lens Adapter: No
• System Requirements: Windows XP, Vista, 7, 8 (32/64bit)
• Software: Optika Vision Lite or Optika View for Windows XP, Vista, 7, 8 (32/64bit)
145344
• Capture Features: Continuous auto white balance, continuous auto exposure