Tablet and Microscope Offer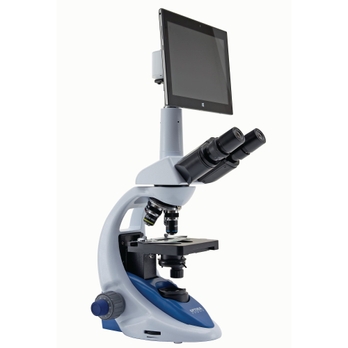 Tablet and Microscope Offer
B8R05952
Product Description
Buy the Philip Harris Tablet and Trinocular Microscope together and save.
Philip Harris Tablet TB-3W
A completely new innovation in microscopy; a tablet PC that has a built-in camera allowing it to be used with our microscope instruments. Perfect for the educator who is an innovator in the classroom too. Includes: instruction manual, Optika Software CD, cleaning cloth, keyboard with touchpad.
TABLET TECHNICAL SPECIFICATION
Model Tablet 8.9"
Operating System Windows 8.1 32-bit, Microsoft Office 365 Personal (1 year subscription)
Language Multilanguages already installed
CPU Intel® Bay trail Z3735F, Quad core
CPU speed 1,83 GHz
Graphics Card Intel® HD Graphics, LPDDR3 controller
Memory Ram 2,048 GB, LPDDR3
LCD display LED 8.9" IPS Multi Touch Screen
LCD resolution 1920 x 1200 Full HD, Active Matrix TFT Colour LCD
Storage HDD 16+16GB
Network Wireless IEEE 802.11 a/g/n Bluetooth 4.0
Input/output ports Micro USB-B - Microphone Micro SD card reader - Micro HDMI Head-phone Separated power supply input
Control Buttons Auto rotate off, volume control
Battery Technology Lithium-ion battery, 2x cell
Battery capacity 6000 mAh
Max load 10 W
Battery Life Up to 10 hours, up to 5,5 hours in continuous Camera Live View mode.
Connection to the Load Power supply 5,35 V 2A with, EuroPlug connection for 100-240 VAC, USB port with USB cable
Dimensions Thickness 9,5 mm Height 15,7 cm Width 22,0 cm
Weight 477 g
Cables included USB camera cable, OTG cable
Also included Instruction manual, Touch Pen and keyboard with touchpad.
CAMERA TECHNICAL SPECIFICATION
Digital camera resolution 3,14 MegaPixels
Analog camera resolution NO
Signal output USB 2.0
Audio Signal NO
Sensor Size 1\2"
Sensor technology CMOS
Image format 4\3
Full Image size 2048 x 1536
Pixel size 3,2 x 3,2 micron
Frame rate full resolution 6,5 frames/sec (2048x1536)
Frame rate other resolutions 28 frames/sec (1024x768) 55 frames/sec (640x480)
Sensitivity 1,0 V/Lux-second (550 nm)
Signal / noise ratio 43 dB
Dynamic range 61 dB
Optika Trinocular Microscope B193
An advanced instrument, capable of upto 1000x magnification, with a modern finish and robust build. Perfect for use in examination assessed work and advanced level education. The trinocular head means students can use the binocular eyepieces for their investigations and teachers can examine and support them via the vertical monocular eyepiece without having to change the settings of the instrument, allowing uninterrupted workflow and better learning outcomes.
Full specification:
Illumination: Light source type X-LED with white LED; light intensity control using a knob on left side of the frame. LED power 3W. Color temperature: 6300K LED average life time approx. 50,000h. Voltage: external power supply 100/240V, 50/60Hz, output: 7.5 V. Max power required: 7W
Observation Mode: Brightfield.
Focusing: Coaxial coarse and fine focusing mechanism (graduated, 0.002mm) with upper stop, to prevent the contact between objective and specimen. Adjustable tension of coarse focusing knob.
Stage: Double layer with mechanical sliding stage, size 125 x 115mm, X-Y movement range 76 x 30, specimen holder for one slide. Vernier scale on the two axes, accuracy 0.1 mm.
Revolver: Quadruple revolving nosepiece, rotation on ball bearings.
Head: Trinocular observation head, inclined 30° and rotatable 360°. Photo port light split: 50/50 fixed. Diopter adjustment on left eyepiece. Interpupillary adjustment 48-75 mm. Eyepieces: Wide field WF10X/18.
Objectives: Achromatic (DIN) objectives with mechanical tube length 160 mm;
• 4X, A.N. 0.10, W.D. 18 mm
• 10X, A.N. 0.25, W.D. 7 mm
• 40X, A.N. 0.65, W.D. 0.53 mm
• 100X, A.N. 1.25, W.D. 0.13 mm (oil immersion)
All objectives are treated with an anti-fungus treatment.
Condenser: Abbe condenser, N.A. 1.25 pre-centred
Dimension: H370 x W235 x D290mm.
Weight: 6.5kg.
Tablet includes:
• Tablet
• Keyboard
• Camera
• Eye piece magnifier
• 3 leads
- (one to attach to plug block)
- (two connect camera to the eye piece magnifier)
• 3 pin UK Plug
• Stylus pen
• Micrometric slide
The Optika Software CD and cleaning cloth are not included anymore. The software is already loaded on the tablet. Manuals are available on-line.