Dino-Lite AM4113T Pro USB Microscope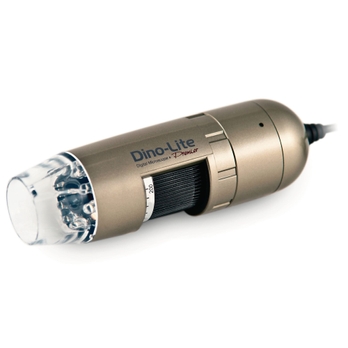 Dino-Lite AM4113T Pro USB Microscope
B8R03142
The Dino-Lite AM4113T represents the latest version of the Dino-Lite AM413T which was without doubt the most popular model in the Dino-Lite Pro range. This latest incarnation still offers 1.3M pixel image resolution but uses the very latest image sensor bringing with it improved colour rendering and low light performance. The new housing with magnification lock feature and improved thumb wheel action further enhance the product. Other than this the AM4113T inherits all other attributes from the AM413T and offers professional users crystal clear images combined with access to advanced software features. The 1.3M pixel image sensor provides excellent full screen resolution and the standard working distance 10x-60x & 200x optics offer a wide range of magnifications for general use. Advanced software measurement features with calibration and the MicroTouch snapshot function also feature as standard on the Dino-Lite Pro AM4113T.
ADDITIONAL INFO
Resolution:1280x1024pixels(1,3MP)
Magnification:10x ~ 60x, 200x
Working Distance: Standard
Interface: USB 2.0
Nr. of LEDs: 8
LED on/off switchable: Yes
LED color: White
Material: Composite
Exchangeable caps: No
Microtouch: Yes
Scroll lock: Yes
Output: Picture, Video, Time-lapsed video
Video Frame Rate: Up to 30 frames-per-second, 15fps at 1.3M
Measurement: Yes
Calibration: Yes
Filter/Diffuser: None
Compatibility: Windows XP upto Windows 8, MacOS 10.4 +
Software: DinoCapture for Windows, DinoXcope for MacOS
JPEG Codec: None
Special: Latest version of the ever popular AM413T with enhanced image sensor and new housing.
Field of View:
M WD FOV (x) FOV (y)
20 48.7 19.6 15.6
30 21.7 13.0 10.4
40 9.0 9.8 7.8
50 1.9 7.8 6.3
60 -2.3 6.5 5.2
220 -0.1 1.8 1.4
230 1.0 1.7 1.4
240 2.1 1.6 1.3
M = magnification rate, WD = working distance, FOV = field of view, Unit = mm