Philip Harris M-100FLED Monocular Microscope LED 400x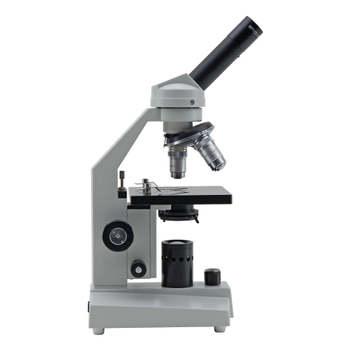 Philip Harris M-100FLED Monocular Microscope LED 400x
B8R05547
Product Description
Monocular microscope with the same technical specifications as model M-100FL, with the addition of a built-in 3-LED illuminator with 3 rechargeable batteries. The illuminator can be used for 24 hours continuously without recharging (12 hours with LED at maximum power).
Battery charging enabled while using the microscope.
Battery pack: 3 x AA, 1.2V NiMh, 1000 mAh, replaceable by the user.
Time required for a full recharge: 10 hours.
Full Specification:
• Total magnification: 40x, 100x, 400x
• Eyepiece: Wide Field 10x/18mm
• Head: Monocular, 360° rotating, with 45° inclined eyepiece tube
• Objectives: Achromatic DIN 4x, 10x, 40x (telescopic)
• Stage: 120 x 110mm gliding stage, with sample clips
• Focussing: Separate coarse and fine control knobs
• Condenser: N.A. 0.65, iris diaphragm and filter holder
• Illumination: LED, with adjustable intensity and rechargeable batteries
• Dimensions: H370 x W130 x D170mm
• Weight: 4kg
• Accessories included: Power supply, dust cover and instructions