Philip Harris Lab 20 Zoom Stereo Microscope LED 45x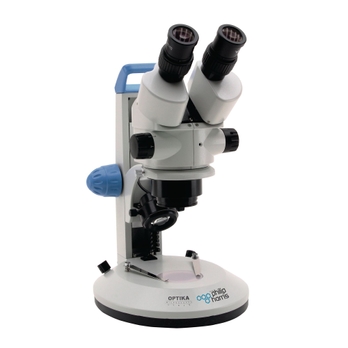 Philip Harris Lab 20 Zoom Stereo Microscope LED 45x
B8R05552
Product Description
Very similar specification to the Lab 10 model, but fitted with zoom objectives and capable of up to 45x magnification.
Full Specification:
• Total magnification: Up to 45x.
• Eyepieces: WF10x/20mm.
• Head: Binocular, 360° rotating, 45° inclined front side eyepiece tube. Diopter adjustment on both eyepieces. Interpupillary adjustment 51-75mm.
• Nosepiece: Turret type.
• Objectives: Achromatic 0.7x and 4.5x zoom objectives. Zoom factor 6.43:1. Working distance 85mm. Higher magnifications possible using additional eyepieces and lenses.
• Stage: Semi-transparent plastic disc for transmitted light.
• Focussing: Rack and pinion mechanism controlled by a pair of knobs.
• Illumination: Double intensity adjustable incident and transmitted LED illumination. The angle of the incident illuminator is adjustable.
• Optical system: Achromatic.
• Voltage: External power supply 110/240V, 50/60Hz, 1A. Max. power 7W
• Dimensions: H360 x W300 x D190mm.
• Weight: 7kg
• Accessories included: Power supply, dust cover and instructions.