Philip Harris SFX-31 Stereo Microscope 40x
New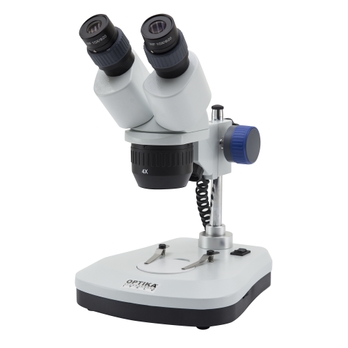 Philip Harris SFX-31 Stereo Microscope 40x
B8R07236
Product Description
Stereomicroscopy is easy with this simple instrument that will allow the student to be completely in control and have fun investigating the microscopic world. Highly reliable instrument with solid construction.
Internal NiMH rechargeable battery. Up to 8 hours use from a single charge. LED medium intensity.
Time required for a full recharge: 8 hours.
Full Specification;
Total magnification: 20x – 40x selectable.
Eyepieces: Wide Field 10x/20mm with eyecups for protection.
Head: Binocular, 45° inclined. Diopter adjustment on both eyepiece tubes. Interpupillary distance adjustable between 53 and 75 mm.
Nosepiece: Turret type
Objectives: 2x – 4x selectable. Working distance 57mm.
Stage: Black/white disc for contrast, and semi-transparent plastic disc for transmitted light with specimen clamps.
Focussing: Rack and pinion mechanism controlled by a pair of knobs placed on both sides of the microscope.
Illumination: Double adjustable illuminator for incident and transmitted light fitted with two high-efficiency 1 W LED light sources with internal rechargeable battery.
Voltage: External power supply 110/240 V, 50/60 Hz. Max. power 3W
Dimensions: H288xW183D205 mm
Weight: 1.8 kg
Accessories included: Power supply, instruction manual and dust cover.
Age Suitability: 11 – 16 Years