Helmholtz Coils
Pair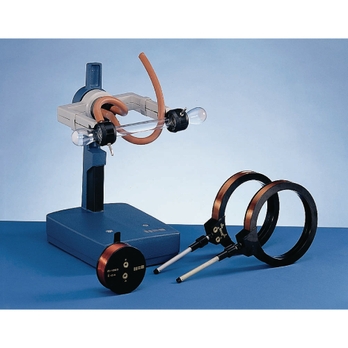 B8A49475
Direct Delivery – up to 2 weeks
Product Description
When connected to a suitable d.c. supply, the coils provide a substantially uniform field in the central space. Each coil has a moulded plastic former 152mm diameter with 320 turns of 22 s.w.g. enamelled wire giving a mean diameter of 136mm. The former is mounted on a boss provided with two 4mm sockets and is fitted with a support rod. The rod has a sliding boss which locks into the tapered hole in the base of the Universal Stand.
Dimensions of coil and support rod 305mm x 152mm x 25mm.
Supplied as a pack of 2, complete with instructions. PAIR.