Universal Stand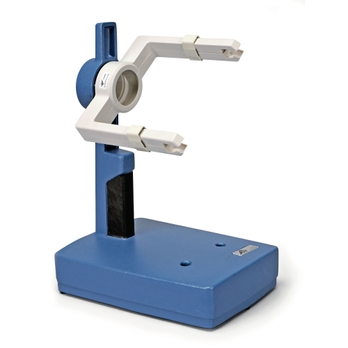 Universal Stand
B8A49463
Product Description
Designed to accommodate the whole range of Teltron tubes and accessories. The base, 240mm x 180mm x 50mm, and a vertical arm of the stand, 280mm high, are cast in light alloy and stove enamelled.
The three rubber feet ensure maximum stability.
Tube mounting jaws are provided, moulded in a material with very high electrical insulation properties. The jaws are split lengthways to admit the side caps of the tubes, and clamps sliding on the jaws lock them securely in position. The jaws, 160mm long x 140mm separation, have an integral hollow boss which is secured in the stand by a rubber 'O' ring at a centre height of 263mm, permitting a full 360° rotation so that the tube may be displayed to the best advantage.
Sockets in the base accomodate the Helmholtz coil supports and locate the coils accurately either side of the tubes.
A 4mm earthing socket is drilled into the pillar base.
Supplied complete with instructions.