Planck's Constant
New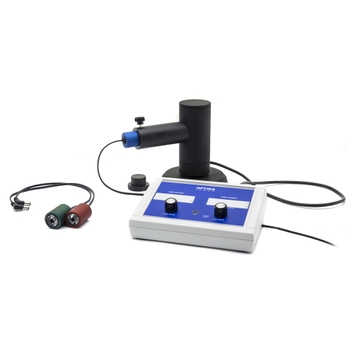 Planck's Constant
B8R07150
Product Description
A new spin on the classic method of calculating Planck's constant, this apparatus provides a simple and effective means of studying the photoelectric effect, gaining a good value for h, and exploring basic quantum mechanics. Comprising a phototube and control unit with built-in voltmeter and nanoammeter, the apparatus can be used with three LEDs of known wavelength (included) to learn about the relationship between the energy of emitted electrons and the wavelength of incident radiation. Planck's constant can then be calculated approximately using the Planck-Einstein relation.
The in-depth notes include explanations of a range of phenomena and theory associated with the photoelectric effect and Planck's work alongside the experimental methods.
Includes a phototube, 3 LEDs (green, red, and blue), control unit, power supply, and comprehensive teacher guide.
Technical specifications:
- Power supply: 24V d.c.
- Voltmeter 4 digits, sensitivity < 2mV
- Ammeter 4 digits, sensitivity < 5nA
- Button to cut off current
- LED light adjustment 0-100%
- Anodic tension adjustment
Dimensions and weight:
- Control station 19x13,5x6cm weight 370g
- Phototube base 13x18x15,5cm weight 560g