Alpha Transistor Investigations Kit
KIT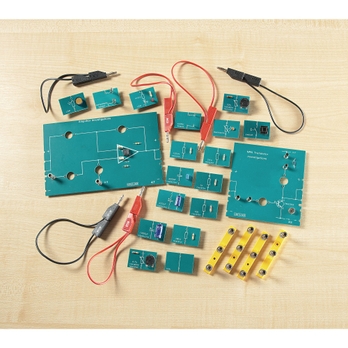 Alpha Transistor Investigations Kit
KIT
B8R02922
The kit enables students to explore the behaviour of an NPN transistor, which is mounted on an oversize Alpha board. Component panels, carrying a variety of resistors, capacitors, a thermistor, LED and LDR, plug into sockets on the transistor board. Extra sockets allow for connection of meters to monitor current flow in the base and collector circuits.
Simple and complex circuits can be quickly constructed and tested, using Alpha links to attach external components and sensors to the input (base) and output (collector). The emitter of the transistor is connected to zero volts.
Example circuits include: potential divider, thermistor in a potential divider, using a transistor as a switch, light controlled switch, using a capacitor for time delay, time delay switch.
The Transistor Investigations board can also be used with other Alpha boards to create a simple oscillator, capable of producing audible tones via a small loudspeaker.
The kit comprises:
1 x Alpha, transistor investigations, NPN
1 x Alpha, potential divider
1 x Alpha, 4.7k potentiometer panel
1 x Alpha, component investigations
1 x Alpha, component holder panel
1 x Alpha, solder panel
1 x Alpha, 100 OHM resistor panel
1 x Alpha, 1k resistor panel
1 x Alpha, 10k resistor panel
1 x Alpha, 5k variable resistor panel
1 x Alpha, 22k variable resistor panel
1 x Alpha, thermistor panel
1 x Alpha, switch panel
1 x Alpha, LED panel
1 x Alpha, LDR panel
1 x Alpha, 1000uF capacitor panel
1 x Alpha, 220uF capacitor panel
1 x Alpha, 220nF capacitor panel
3 x Alphalink (yellow)
1 x Alpha transistor investigations manual (on CD)
Kit includes a Alpha Power Supply Regulator (for connection to any bench power supply 9 to 12V a.c. or d.c.)