Electric Paint - 50ml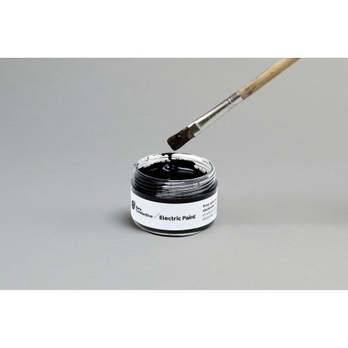 Electric Paint - 50ml
B8R05974
Product Description
Electric paint can be applied in many different ways, from a paintbrush and stenciling to common printing processes like screen-printing. It is a nontoxic, water based, water soluble, electrically conductive paint. Electric paint adheres to a wide variety of substrates and is easily removed with water. It is black in colour and can be over-painted with any material compatible with a water-based paint.
Works with: Electrical components, prototyping materials, PCBs, microcontrollers (Touch Board™, Arduino, Raspberry Pi, MaKey MaKey, LilyPad, FLORA), e-textiles, and conductive thread. Not recommended to use to use with electrical sources exceeding 12v.
Children under the age of 12 must be supervised by an adult whilse using this product.