MFA Publications USB Set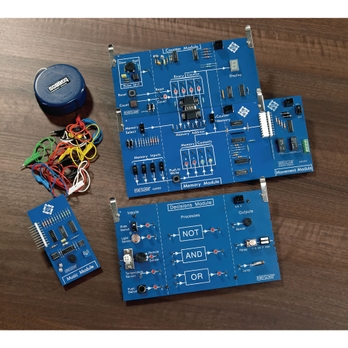 MFA Publications USB Set
B8R02586
Direct Delivery – up to 7 days
Product Description
MFA is a simple but powerful introduction to microelectronics. With emphasis on practical problem-solving, it will challenge your students to use the building blocks of electronics: input-process-output.
The USB contains a comprehensive set of PDF publications designed to introduce the concepts of electronics decision making, using inputs to control output, electronic counting, and using memory to store data.
Student support consists of printable workbooks, illustrated resource booklets and assessment materials. Teacher resources include INSET activities and detailed student assessment guides.
The MFA modules: Decisions, Counting and Memory can be used individually, and become more powerful when used together. The Music and Movement modules extend the activities into playing simple tunes and controlling Lego motors and other simple circuits.
MFA contributes to OCR Additional Applied Science Module 5 Communications, offering activities on: binary codes, flowcharts, logic, block (system) diagrams, the "input-process-output" description of systems, analogue and digital signals.
Practical work is frequently related to real-world applications including: medicine, the home, agriculture, sport, manufacture, and music.