Electric Motor Kit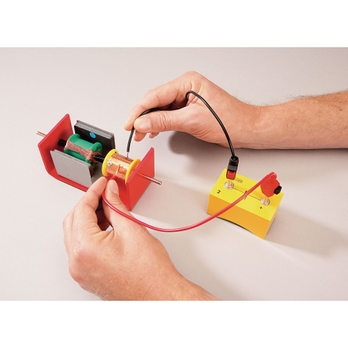 Electric Motor Kit
B8A47934
Product Description
A kit of components and materials which will allow a pupil to build a simple but effective two pole d.c. motor that will run well on voltages as low as 1.5V. This kit is designed to overcome the difficulties of obtaining a good electrical contact with the commutator, with minimum friction, in the brush system. This kit dispenses with the need to construct "permanent" brushes. Instead, the bared ends of two lengths of stranded flexible wire are simply held at either side of the commutator so that they apply gentle pressure under the control of the operator. The ceramic magnets supplied are marked for polarity so that Fleming's rule may be investigated.
All materials are provided and a set of teacher's notes is included.
BEK sold separately.