Dual Purpose Electroscope With Scale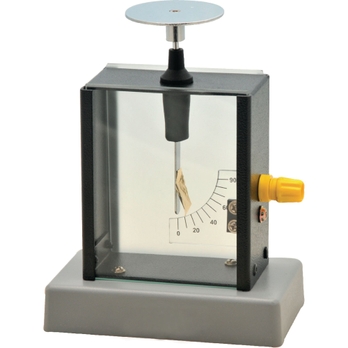 Dual Purpose Electroscope With Scale
B8H26679
Product Description
This gold leaf electroscope is great for hands on experience with electrostatic principles in physics classrooms and labs. The solidly constructed sheet anodised aluminum walls of the electroscope are mounted on a plastic base. Front glass window slides up to allow insertion of ionizing material in chamber. Transparent scale is attached inside chamber to measure the deflection of the gold leaf.
Includes two gold leaf sheets, fitted with 4mm socket. Assembled, the electroscope measures 165 x 95 x 70mm.
Note: The gold-leaf does not come pre-attached to the electroscope. Instructions on how to properly attach the gold-leaf to the conducting rod are included with the product manual.