Electrometer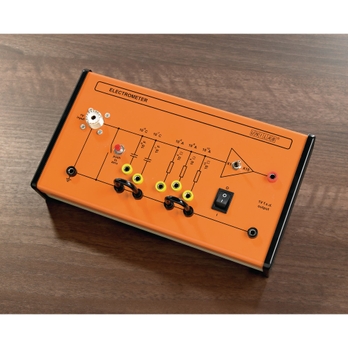 Electrometer
B8H28792
Product Description
Modern components and construction ensure much improved performance, reliability and robustness. For example, captive J-links are used to select the capacitance or current range required, while no zero control is required.
The internal 9V PP3 battery should give at least 6 months continuous use.
This instrument gives outputs in the range 0-1V in response to extremely small currents or charges. An external 1V voltmeter is used to show the reading. Selecting one of the 1nF or 100nF capacitors or 10MΩ, 1000MΩ (1GΩ) or 100GΩ resistors, (the x1 and x10 gain switch on the amplifier provides the decades between these values) means that current ranges from 100nA to 1pA or charge ranges from 107 to 109 Coulomb can be measured.
All 4mm sockets are PTFE insulated to minimise leakage currents.
The input socket is a UHF socket with 4mm central socket.