Autoranging Digital Multimeter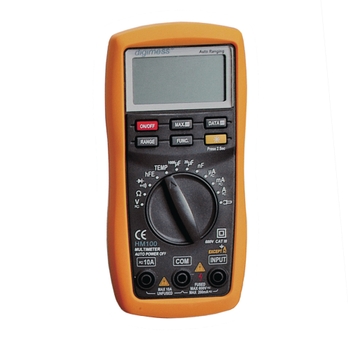 Autoranging Digital Multimeter
B8L49554
Product Description
The Autoranging Digital Multimeter features a wide range of functions and a high level of accuracy. It offers the full range of normal multimeter functions as well as the ability to measure d.c. common emitter current gain of transistors. A rugged construction coupled with an effective electrical protection ensure a long working life.
• a.c. voltage: 200mV to 600V in 5 ranges.
• d.c. current: 2mA to 10A.
• Resistance: 200Ω to 20MΩ.
• Capacitance: 20nF to 1000μF (4% accuracy).
• Dimensions: 158 x 74 x 31mm.
• Diode Test Position: Forward current 1mA, reverse voltage 2.8V.
• Accuracy typically in the range of ± 0.7% or better