Basic Student Meter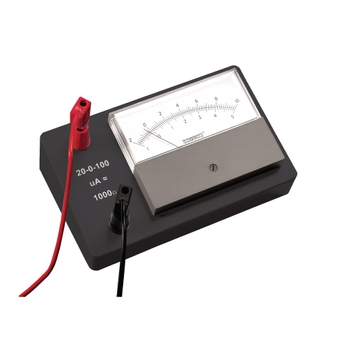 Basic Student Meter
B8H30981
This meter was originally designed to meet the Nuffield A-level Physics specification 1002. For many years it has set the standard in low-cost analogue meters for education, being flexible and robust in use.
The meter has two scales (2-0-10 and 1-0-5) and adding a shunt or multiplier converts it into a dual or triple range ammeter or voltmeter.
A centre-zero version of this meter which takes the same range of accessories, is also available.
• 1000Ω movement, moving coil, scale length 74mm
• Full scale deflection 20-0-100mV, 20-0-100μA, accuracy ±2% of f.s.d.
• Wide range of shunts and multipliers available
• Large range of a.c. & d.c. currents and voltages may be measured
• Diode protection of the movement is incorporated and overloads of at least 12V d.c. can be tolerated.
Mass: 0.37kg
Size: 150 x 100 x 70mm