Boyle's Law Apparatus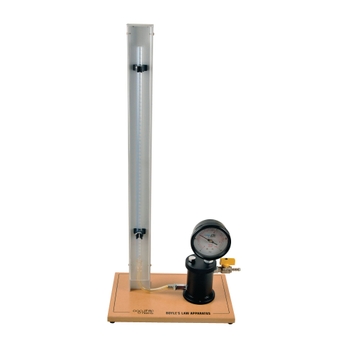 Boyle's Law Apparatus
B8H25298
Product Description
Designed for demonstration, the column is clearly visible to the whole class without them having to crowd around the demonstration bench. A wide-bore glass tube is mounted vertically in front of a scale graduated 0 to 65cm3. Zero corresponds to the inside of the closed (top) end of the tube.
Air is confined in the tube by a coloured oil contained in a metal pressure chamber which is fitted with a Bourdon-type gauge calibrated 0 to 3.4 x 105 Pa. As the pressure in the oil chamber is increased oil is forced into the glass tube and the volume of the contained air and its actual (total) pressure are directly indicated.
The tube is of extra strong glass having a very large safety overload margin.
As a further precaution a plastic safety screen is secured over the front.
Supplied complete with oil.
Overall height: 690mm.