Radiant Heat Source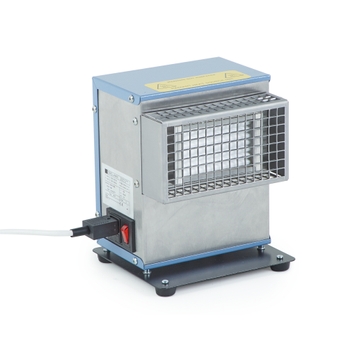 Radiant Heat Source
B8A42845
This ruggedly designed unit has been introduced to provide an alternative to the open element cylindrical radiant heat source. Whilst being intended for effective operation in all the Nuffield experiments, it is nevertheless designed with safety foremost in mind. The fully enclosed (apart from the output grille) steel case is earthed via the IEC mains lead, and an illuminated ON/OFF switch is incorporated. The broad base with rubber feet minimises the possibility of it being accidentally tipped over, and if this should happen, the radiating front surface is prevented from making actual contact with the bench top. For convenience of transportation, the rear of the case is provided with a carrying handle. A further safety feature inherent in the unidirectional design is that inadvertent radiation of heat in directions other than that required is avoided.
• Power: 300W.
• Mains input: 230V nominal, 50 to 60Hz.
• Output wavelength: 2.5 to 3.5 μm nominal.
• Dimensions: W192 x D171 x H235mm.
• Mass: 2kg.
Supplied complete with detachable IEC mains connecting lead and basic operating instructions.