LED.Strobe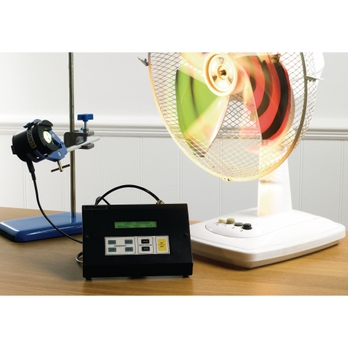 LED.Strobe
B8R04838
Product Description
The LED.strobe produces a square wave signal, whose frequency can be varied from 1-200Hz in 1Hz steps, and whose duty cycle can be set between 10 and 50% in 5% steps.
The square wave is used to modulate the power to the LED.white or LED.laser (not included), allowing them to be used in experiments involving stroboscopy.
With the LED.white, the fast moving objects can be slowed down or frozen, allowing easy observation of motion, and discussion of the uses and effects of a strobe.
Interesting patterns can be projected by using the LED.strobe with the LED.laser.
As well as internal modulation, the unit has 2 x 4mm sockets for triggering from an external source, such as a signal generator or audio.
Control of the frequency and duty cycle is via a keypad, and settings are indicated via an LCD.
As the unit modulates the power to the light source, a power supply is not required – simply use the LED.laser or LED.white's own plug-top supply.
An experiment guide is included on CD.